What Is Credit Monitoring and How Does It Work?

Credit monitoring is a service that keeps an eye on your credit reports and alerts you when there are changes. For instance, your credit monitoring service will notify you if new credit is opened in your name or a hard inquiry occurs.
According to the 2019 Identity Fraud Study, there were 14.4 million victims of identity theft in 2018. Research shows that the biggest financial impact of identity theft happens when a new account goes undetected for six months or longer. Credit monitoring helps you stay on top of your reports to spot fraudulent activity and errors as soon as they occur. 
Is credit monitoring worth it? Consider this: your credit score largely impacts whether you can get approved for a loan, mortgage or credit card. Credit monitoring is an easy, convenient way to ensure your credit report is accurate and your credit score stays as high as possible.
What Does Credit Monitoring Do?
Credit monitoring keeps tabs on your credit reports and alerts you of any changes or suspicious activity. A credit monitoring service can watch for: 
Hard inquiries: When you apply for a loan or credit card, a hard inquiry occurs on your report. Whether it's you or an imposter applying, you're notified of a credit check being run. 
New accounts: This applies to any type of credit account opened under your name, including loans, mortgages and credit cards.
Changes to existing accounts: If you're given a credit limit increase or your payment history is updated, it'll appear on your credit report as a change.
New public records like bankruptcies: If a civil court judgment or bankruptcy occurs under your name, you'll receive an alert.
Address changes: When your address changes on any account or credit card, it shows up on your credit report. A thief can try to change your address without you knowing.
Credit score changes: As your credit score fluctuates, your credit monitoring service lets you know when your score goes up or down.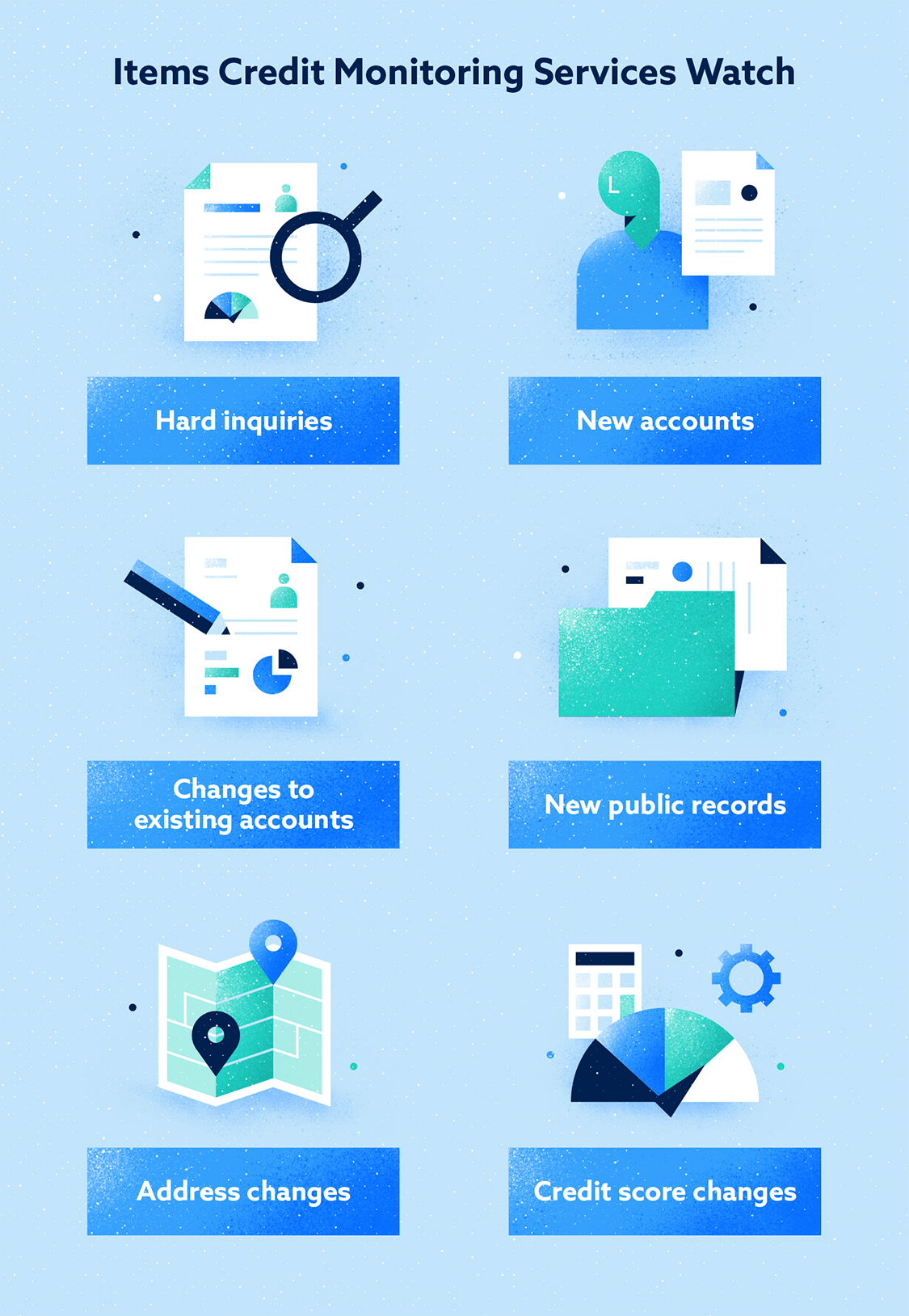 Who Provides Credit Monitoring?
There are several types of companies that offer credit monitoring services, although the costs and services vary from company to company.
Banks: From local banks to national brands, a bank may offer to monitor your credit score and credit reports.
Credit unions: Credit unions may provide a free credit monitoring service with your account or charge a fee.
Personal finance apps: Many budgeting apps and personal finance websites offer credit monitoring services.
Credit repair firms: A firm that works to repair your credit may also keep an eye on your credit.
Credit bureaus: The three major credit bureaus (Experian®, Equifax® and TransUnion®) offer credit monitoring packages.
Security companies: Companies specializing in security may also include identity protection and credit monitoring.
Depending on the company, notifications will come to you in different ways and at different intervals. Some send you a push notification within 24 hours of a hard inquiry or change on your report. As you consider different services, make sure you look at how and when they will notify you of any changes. The sooner you're aware of an incident on your account, the quicker you can take action and prevent harm to your credit report and finances.
How Can I Choose the Best Credit Monitoring Service?
Double-check with your financial institutions to see if they provide credit monitoring. You may already have credit monitoring services available to you. 
In many cases, banks and credit unions offer the service for free if you're a member, but sometimes you'll have to pay a fee. Like we said earlier, companies offer different services and levels of monitoring at different price points. Compare what each service offers to see what's best for you.
Here are the main things to consider when choosing a credit monitoring service:
Services provided: Some companies offer basic monitoring of your credit reports, while others offer social security number monitoring, identity theft protection and lost-wallet protection.
Your needs: Determine the level of protection you want and need. If you've been a victim of identity theft, you may want a higher level of service. If you haven't had any problems and are vigilant about staying on top of your credit report, you may not want to pay for extra services.
Time saved: Having a service watch your credit can give you time to do other things. Keeping tabs on your credit report takes effort and can cost money (beyond the free credit reports you get each year).
Cost: There are various price ranges for each service and company. Compare costs to see what fits into your budget.
Do I Need to Use These Services to Stay Safe?
You aren't required to use a service to monitor your credit. You can access and do everything a credit monitoring service can do. That being said, a credit monitoring service can save you time and money, and help alert you to fraudulent activity much faster.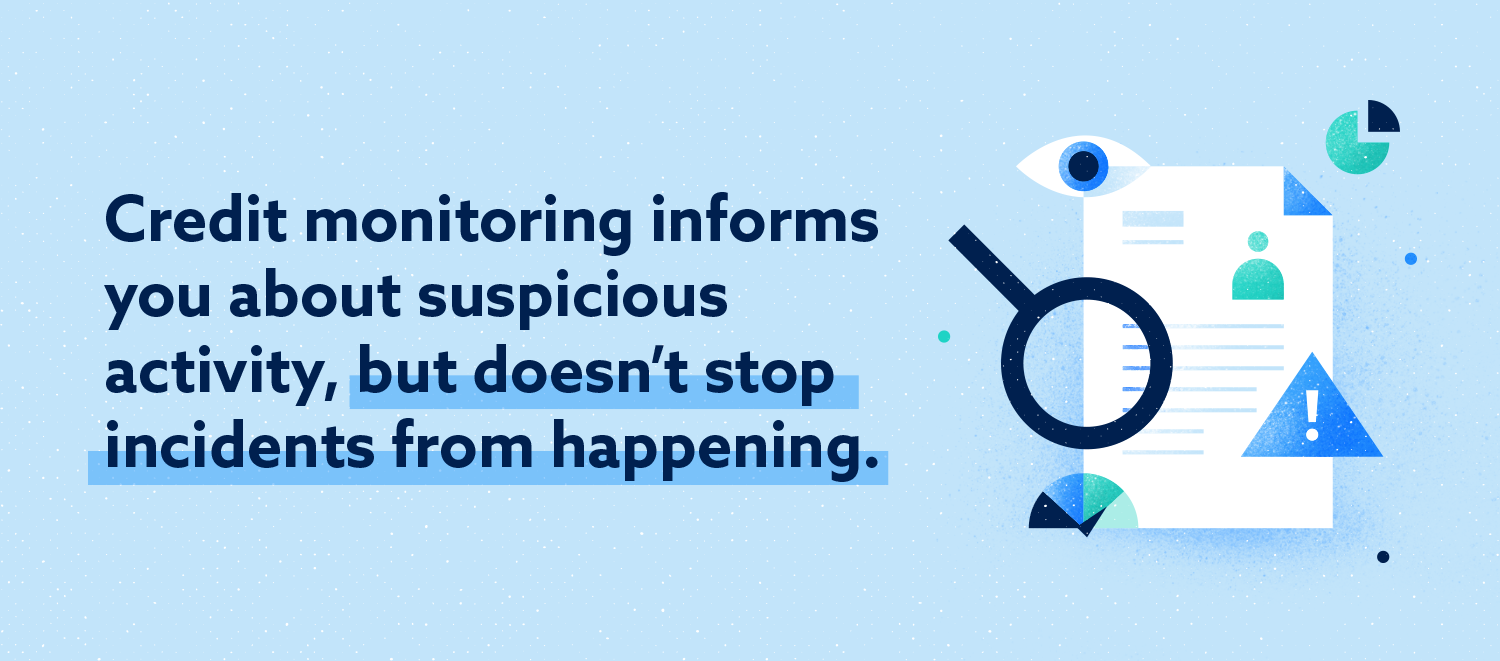 Immediate alerts from credit monitoring can help you act fast and prevent financial damage. For example, if you're notified that someone applied for credit under your name, you can dispute it right away. 
Even if you use credit monitoring services, you shouldn't solely rely on the services to keep your information safe. Credit monitoring can't stop incidents from happening, such as someone applying for a loan in your name. Imposters can open credit cards or rent an apartment when they have access to your personal information.
To prevent identity theft, be safe when sharing any personal information, like your social security number. You also want to regularly look at your credit reports to make sure there's no suspicious activity or errors.
How Can I Take Advantage of Everything Credit Monitoring Offers?
Credit monitoring can do a lot of great things for your credit report and financial wellbeing if you know how to maximize its features.
Take full advantage of your credit monitoring service by:
Tailoring your notification preferences
Understanding how credit freezes work
Reading each alert thoroughly
Knowing what to do when suspicious activity occurs
Learning how to dispute an error on your report 
Reviewing your service plan annually to see if you want to make changes
What Should I Do When I'm Alerted of Suspicious Activity?
Suspicious activity can be caused by many different reasons, including a negligent clerical error or intentional identity theft. You won't know until you investigate the item.
Once you determine that there's a mistake, contact the credit bureaus and financial institutions involved. You might even want to contact the police if you verify suspicious activity on your credit report.
Lexington Law offers a comprehensive credit monitoring service that focuses on tracking your credit, protecting your identity and helping you fix issues. Additional benefits of our program include identity theft insurance and a personal finance manager. If you're interested in learning more about how our credit monitoring program can benefit you, check out Lex OnTrack.